Transfer Your Smartphone to DVA – Video In the Cloud!
Watch on your Computer, Tablet & Smart TV!
First, the good news! We're all walking around 24/7 with a video camera right in our Smartphones. We're capturing images of our kids, Mom and Dad, our families, vacations, holidays and tons of other memories everyday. That's awesome. Very awesome.
Now the bad news... precious video and memories are gathered on these devices and cameras only to stay there – locked in – never seeing the light of day. They are stuck. Our capture devices have become our storage devices. That's bad. Very bad.
Just think! With smartphones and tablets we are the first generation capable of recording our life's moments 24/7. Yet, ironically, we are in the most danger of losing them because they reside on devices where they are most susceptible to being lost.
The solution to this problem is Digital Video Archive – uploading your video content to
www.Digitalvideoarchive.com
.
Make sure your video memories are safe so you and your family can enjoy them for years to come.
Open your own Digital Video Archive account at DigitalVideoArchive.com and start uploading your smartphone video today.
What is a DVA?
A DVA (Digital Video Archive) is a specially designed and engineered MP4 file format containing unique customizable metadata - title information, chapter markers, thumbnail images and more which enables playback on a DVA player (computer, smartphone, tablet and smart TV- with internet access). DVAs are easily viewed, modified, edited, shared and archivally stored in the cloud at DigitalVideoArchive.com. A DVA can be shared with one person, several family members or your entire circle of friends and family. Here's more information about this new and exciting product and service.
Digital Video Archive (DVA) is a cloud-based technology. Your memories are safely archived - never again vulnerable to fading or being lost.
DVA is the newest and best way to share your videos with family, friends or any other group you want to share with.
View your DVAs on your smartphone, computer, tablet or smart TV.
DVA's sharing service is private. Unlike public sharing sites, Digital Video Archive is a safe family-oriented viewing experience. We like to say that DVA brings families back to the family dinner table. You'll feel the connection once you start inviting your family and friends to view your new "DVAs."
With DVA you can easily edit and organize your videos. Combine clips by category (content, date, people, whatever you like). Create menus. Insert chapter markers and add titles. Be careful... being an "Archiver" can be addicting!
You can also grant "gift" your DVAs to others and then they will own their copy of the family home movies, etc.
Become a DVA "Archiver" and invite your friends to be Viewers...
It's fun and easy! Once we have transferred your content to your new DVAs, you'll receive access to your new Digital Video Archive account. With your new DVA account, you can view, edit, share and modify your movies and videos. You'll want to invite your friends and family as Viewers so you can share your video with them. This will give them access to the DVAs you would like for them to see and enjoy. You can also grant ("gift")DVAs to them. Every DVA has smart chapter markers with thumbnail images, just like the old DVDs, so you and your viewers will be able to fully experience each DVA.
Here's a great bonus! With your new Digital Video Archive account you can immediately begin uploading your own personal videos from your smartphone or computer. You'll be able share these videos with your friends and family as well. Plus, your friends and family will receive free DVA accounts and can begin uploading their videos too. Soon you'll have new DVAs from them to watch as well!
Ready to get started? Click on the next button to begin your order. Remember, you can order DVDs, DVAs or both.
You can also check out
www.Digitalvideoarchive.com
for more information on DVA.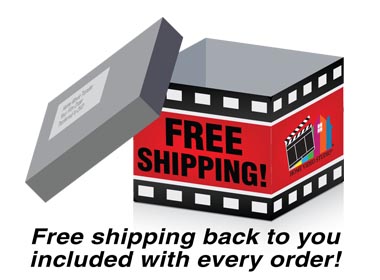 *Requires a monthly or yearly subscription to Digital Video Archive.